I know I only posted the first '3 Degrees of Separation' yesterday, but this one's a corker, and it seemed like a crime to keep it from you. So, here it is: the 2nd ever 3 Degrees of Separation!
Basically, I link three bands together by cover versions- the best way to fully explain this is just to launch into it- I'm sure you'll get the idea.

Band 1- Nirvana

A band that need no introduction, and that had both more success and more raw talent than many bands could ever hope to have. As well as anthems for a generation, such as 'Smells Like Teen Spirit', some of their more low-key songs seem equally resonant with their fans- songs such as Polly. Polly tells the chilling true story of a young girl from Washington who was abducted, raped and tortured with razors, ropes and a blowtorch. Cobain's only narrative flourish is that the victim manages to escape by flirting with her captor, convincing him to trust her. This allows her to escape while he stops for gas. Although the message of the song may be shocking, the song is as beautiful to the ears as it is disturbing.



Band 2- Animal Collective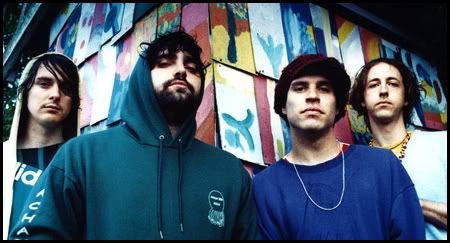 Loose experimental musical collaborative, Animal Collective, have crafted a cover version of Polly, that despite the eloquently-played instruments, to me sounds even more chilling than the original. Whether or not this is a minor triumph or just plain creepy is in the ears of the beholder. I'll let you decide- you can listen to it below:



I have previously written about Animal Collective's most popular song au moment, 'My Girls', here- including a hilarious song description that last.fm have failed to see the funny side of and have consequently deleted. The last.fm page does now point out, however, 'It also annoys the hell out of Animal Collective fans when people listen to this song in seclusion and do not experience the entire album—which was, in fact, the artist's intent.' In support of this, please now enjoy 'My Girls' in seclusion below- sorry, Animal Collective fans, but it is what the band would've wanted, afterall.

Band 3- Dappled Cities
Dappled Cities' version of 'My Girls' strips back the multitudinous layers of sounds, focusing more on the vocals and a simple beat, almost indistinguishable from the original. Dappled Cities themselves are a lesser known indie-pop band hailing from Australia, who formed in 1997 and have through thick and thin (and losing a band member so he could pursue a career in bio-mechanical engineering, seriously) remained until the present day. The fact they formed in 1997 makes them sound rather old- they're not, they were all 15 when the band began. Oh, to be 15 again- when I was 15, I wore a khaki blazer and Converse all the time, and listened only to mildly angry bands with female vocalists. Good times.